NEWS ARCHIVE FEBRUARY 2000
<![if !vml]>
<![endif]>Late in 1999, Normandy Christian Church purchased a 15-passenger van.

Since DIM is a Normandy-sponsored ministry, we will be able to transport the group to functions like the parade, or up to PSCC for our presentations at the college.

To help defray the cost of purchasing the van, DIM members have written and prepared an hour long set of comedy sketches to perform at a fundraiser potluck on Sunday, March 5. The potluck is a joint partnership with the church's Social Team, and the theme is "Fun Food." The potluck will be in the church social hall at , with the comedy presentation to follow.

All DIM supporters are invited to bring a fun food item to the potluck, and then offer a free-will donation for the comedy program.

Sketches prepared for the event include:

<![if !supportLists]>¨ <![endif]>If Men Did Direct Sales. See what happens when men gather to buy Tupperware.

<![if !supportLists]>¨ <![endif]>Ananias and Sapphira at Home. See the infamous duo haplessly prepare their famous deception.

<![if !supportLists]>¨ <![endif]>The Fishless Fishermen. A scathing news report on a bunch of do-nothing bureaucrats.

<![if !supportLists]>¨ <![endif]>Sam 'n' Ella Sings! Country stars Sam 'n' Ella make their local debut.

<![if !supportLists]>

¨ <![endif]>Revelation! See stars from Chi Rho II, The Assignment, featured on this mock game show.

Can't attend the fundraiser, but would like to help anyway? Send your check to Normandy Christian Church, 908 S. 200th St., Des Moines, WA 98198. Mark the check for "DIM Van."

Chi Rho II to Share PSCC Stage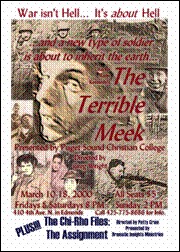 Last fall's popular followup to DIM's original production of The Chi Rho Files: Investigations of the Unorthodox will also enjoy a revival on the Puget Sound Christian College (PSCC) stage. As Investigations shared a double bill with Christ in the Concrete City last fall, this spring finds The Assignment on a double bill with the PSCC student production of The Terrible Meek, from March 10-18.
Come support the students at PSCC, and catch the second installment of the Chi Rho Serial drama!
For more information, call 425-775-8686.
Fuller Broader Program Plans for '00
For the first time in five years, DIM conducted full scale long-range planning meetings this January. In addition to affirming the original vision for the organization, which is dedicated to bringing believers to richer relationship with their Lord, and applying the dramatic arts to study of the Bible, the meetings brought a clearer focus to expanding the role of DIM within the church and the community. In the coming year, look for the following:
<![if !supportLists]>¨ <![endif]>Increased partnership with other church ministries, in inventive new formats.
<![if !supportLists]>¨ <![endif]>Worship drama teams, presenting sketch drama in conjunction with Sunday worship.
<![if !supportLists]>¨ <![endif]>A return to staging full scale theatrical dramas. This year, look for The Sign of Jonah.
<![if !supportLists]>¨ <![endif]>Developing and scripting scripture-based Biblical dramas, at this stage TBD.
<![if !supportLists]>¨ <![endif]>A more organized presence in the Waterland festival, particularly in the parade entry.
<![if !supportLists]>¨ <![endif]>Further development of the Chi Rho serial drama.
Chi Rho III Writing Session Upcoming
Aspiring and / or experienced writers are invited to participate in development of the script for The Power Unleashed. Contact Greg Wright at 206-870-6152.<![if !vml]> <![endif]>

The cast of The Assignment: George Rosok, Greg Wright, Linda Woltz, Mike Brunk, Patty Cram (director), Stefanie Kelly, Dave Stark, Matt Meaney, Jenn Wright.
Copyright (c) 2002 Greg and Jenn Wright