NEWS ARCHIVE FEBRUARY 1999
<![if !vml]>
<![endif]>

This Rock

Redux

"The play that started the whole thing" gets revisited by DIM as Mike Brunk prepares to direct This Rock for the Easter season. The play is a true Good Friday script, and concerns the struggles the Disciples of Christ experience the day following His crucifixion. DIM founder Greg Wright was asked to play the part of Peter in a 1990 Star-Crossed Productions (Edmonds) staging of the British gut-wrencher. In the play, Peter struggles with his guilt over abandoning his master, and contemplates suicide.

"While the script is obviously speculative, it does an amazing job of confronting the issue of forgiveness in a very personal manner," says Greg. "At the conclusion of our performance, the entire cast was completely wrecked, emotionally. I tried to tell the Normandy choir about it the next day, and broke down again. It was weeks before I could really talk about the experience."

And so the seeds of the idea for DIM was born: how to provide an environment for others to use the dramatic arts to bring them to a life-changing encounter with their Savior? After four years of existence, DIM's productions are now having the same effect on others (see "What Do You Do For A Sequel?," in the next column).

Mike Brunk played Peter in DIM's inaugural production of This Rock in 1995, which also featured Jenn Cram as Mary Magdelene. Jenn also appeared as John in another staging of the play at Normandy in a pre-DIM production in 1993.

Rehearsals for This Rock begin February 7. If you've been thinking about joining DIM, this is an excellent opportunity to whet your appetite. Join us!

Overdone, or Done Just Well Enough?

<![if !vml]>
<![endif]>Lyla Moreland once more will appear onstage as Mistress Overdone in Shakespeare's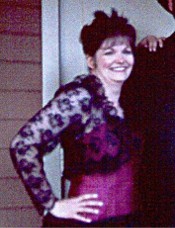 Measure for Measure. Lyla (at left) won the role at open auditions with Redmond's Redwood Theatre in December. Lyla also was asked to perform as Elbow, a simple constable who provides the comic relief in the first act of Redwood's Western adaptation of the Bard's examination of grace and justice (see press photo, below).
It was a daring move for Lyla, who was already in rehearsals for DIM's Chi-Rho Files at the time. Not only has there been the expected difficulties of keeping the various characters straight, and keeping the lines from getting garbled, there's also the interesting question: how does a Christian actor maintain a positive witness for Christ in a secular production while portraying a prostitute? The answer, of course, is to allow the cast to see Christ shining through the actor, while the world sullies the character being played.
Measure for Measure examines the nature of corrupt leadership (a timely topic) and Man's need for grace and mercy, and does so by providing a rather noticeable contrast between lewdness and integrity. (Still, the script is less vulgar than Ken Starr's report to Congress!)
Support Lyla, and check out her hilarious work at Redwood. Measure for Measure plays February 5-20. Call 206-525-3493 for more information.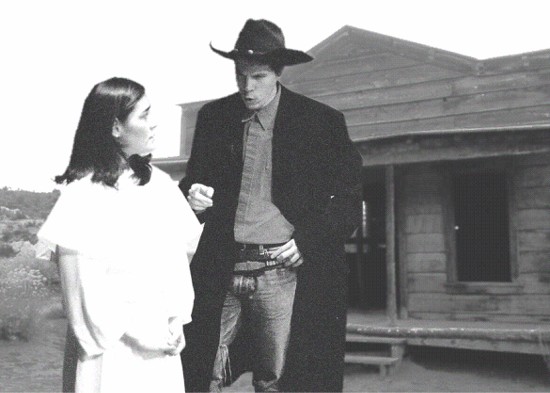 What Do You Do For A Sequel?
The Chi-Rho Files, directed for DIM by Jenn Cram, was met with outstanding feedback from its audience. The Normandy attendance was over 70, best ever for a DIM production. Highlights of the production included:
<![if !supportLists]>· <![endif]>Return visits, and by more than one family. Jack Drake said he came to "see entertainment" the first night, and returned the next night "to really listen to the message."
<![if !supportLists]>· <![endif]>Lorraine Drake was moved enough to supply refreshments for our second and third nights. Now that's impact!
<![if !supportLists]>· <![endif]>More than one audience member asked whether a sequel was planned. Everyone wants to know what happens with Nico!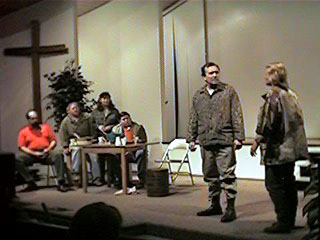 <![if !supportLists]>· <![endif]>One audience member breathlessly exclaimed, "I couldn't believe it was over. I wanted to see more! I was totally wrapped up in it; I was there!"
<![if !vml]>
<![endif]>In addition to audience reaction, several troupe members attest to the impact the script, and its development, has had on their personal lives. Once again, the power of the Word of God is demonstrated. "It will not return void. It will accomplish the purpose for which it is sent." (Isaiah 55:11, paraphrased.)
The Divine Director
It is said that "Life is a stage and we are but the players." For Christians this may be more true than one would expect. We have a Divine Director who guides our movements on this stage of life. He has given us the script of His Holy Word as a message to the audience of the world. If we are players, willing to accept His divine direction, we can give a performance such that when our final performance is over and the curtain falls on this stage that is called life, we will hear our Divine Director call out, "Bravo! Well done, good and faithful servant!" — Lyla Moreland
The Plowboy of the Western World
DIM had a new guy behind the light controls for Chi-Rho. And he wants you to know, he's a real plowboy.
Now, ladies, make sure you read that right. Plowboy.
Dave Stark is not trying to bring attention to his status as bachelor. My no. But he isn't bashful, either, choosing as his stage debut the lead role of Albert in Puget Sound Christian College's production of Frank D. Gilroy's Who'll Save the Plowboy?.
The play concerns Albert, the "plowboy" of the title, and the meeting he has with his buddy Larry, who saved his life in battle 15 years earlier. Like the recent Saving Private Ryan, Larry poses the question, was it worth it? The play poses the question, "What does 'worth it' mean?"
Dave became eligible for the part by recently enrolling in PSCC's Excel program. Support Dave by checking out Plowboy, which runs March 19-21 at the college. Call 425-775-8686 for more info.
Copyright (c) 2002 Greg and Jenn Wright