NEWS ARCHIVE MARCH 1999
<![if !vml]>
<![endif]>

Measuring

Up

Redwood Theatre's production of William Shakespeare's Measure for Measure, which wrapped on February 20, had some interesting twists. Not the least of these was the Western setting, which was used to help communicate the central themes of justice and mercy.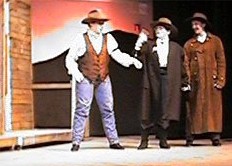 But that was not the most interesting twist, either. No; it was watching our very own Lyla Moreland make her Community Theatre debut, strutting on stage as the prostitute Mistress Overdone, and reacting in flustered bewilderment to the bawdy talk of her prisoners as Constable Elbow (at left, center).
Doing a one-off performance of a significantly watered down version of Measure in 1997 was one thing; but six weeks of rehearsal and eight performances? How does that affect a person?
<![if !vml]>
<![endif]>Naturally, Lyla came through the experience in fine form. While having to put her character's thinking in places where her own mind would never go, especially during rehearsal, Lyla's own Christian character shone through in her working relationship with fellow actors.
Patty Cram's experience was similar. Working in Community Theatre for the first time as Assistant Stage Manager to Saint Joan veteran Stage Manager Judy Schwanke, Patty found the backstage workings at Redwood dynamically different from the usual DIM gig. While participating in the jovial fun of the Measure cast members (which, by all reports, was exceedingly great), Patty found old habits creeping to the surface again. But a better Nature prevailed, and Patty found a new way of maintaining a positive witness in a secular context.
Of course, Patty and Lyla were not total strangers to the large cast of Measure for Measure. In addition to Judy, the cast also featured Michelle Tuck (Saint Joan), Raymond C. Jones (Saint Joan and A Man for All Seasons), and Matt Meaney (A Man for All Seasons), all 'great doers in our trade.'
Plowing Ahead
Part of the wonder of acting is tapping into situations and emotions that one does not normally experience in real life. In some cases, this can be very exhilarating and cathartic. In other cases, it can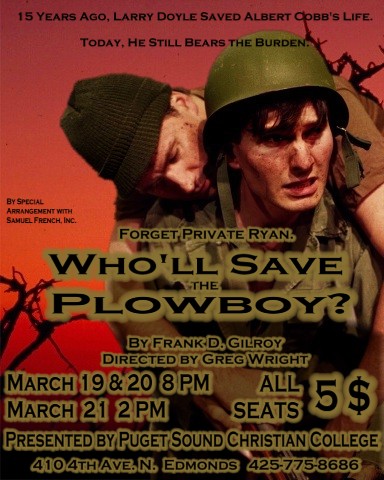 be just plain troubling. For instance: how does one convincingly portray an angry, frustrated, violent war veteran when one has not only never seen war, but, by and large, doesn't know the meaning of the word 'angry?'
This is the dilemma confronting Dave Stark, making his stage debut March 19-21 at Puget Sound Christian College (425-775-8686) in the student production of Who'll Save the Plowboy?
Dave portrays Albert Cobb, an ex-G.I. whose life was saved during his tour of duty by buddy Larry Doyle. Like the title character in Steven Speilberg's Saving Private Ryan, Albert has not only borne the burden of his war experiences, but a sense of guilt and obligation toward his buddy, Larry. Why was his life saved? Was it worth it? Has he 'earned his salvation'?
Of course, none of us earn salvation. As the Apostle Paul observes, we are saved by grace through faith, not works. But Albert, lost in a secular morass of failure and disappointment, does not have the recourse of Christian faith to sustain him and give him hope.
So, he resorts to anger. And what source does Dave, who does rest on the sustaining hope of faith in Christ, draw from to portray Albert's anger? Support Dave by seeing the show, and find out.
And enough sniggering from the peanut gallery: no, Dave doesn't just model the behavior of the director!!
Rocking Their World
"The play that started the whole thing" gets revisited by DIM as Mike Brunk directs This Rock for the Easter season. The play is a true Good Friday concept, and concerns the struggles that Christ's disciples experience following His crucifixion.
Though DIM has performed this script before, some new twists are being added this time around. First, a new emotional pitch may be reached as the cast members will participate in an in-character foot-washing ceremony during the Good Friday service, re-enacting the events of the last supper. Second, the show is going on the road, as well, for a performance at the City Ministries mission to the homeless, downtown. See the front flap for performance dates and times.
Pawning a Play
<![if !vml]>
<![endif]>Rehearsals begin in late April for DIM's summer production,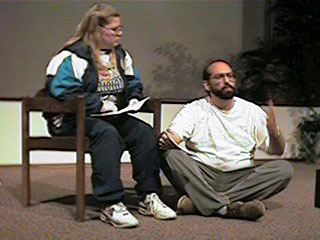 King to Knight's Pawn. Lyla Moreland is preparing to direct the revamped and expanded medieval allegory about the second coming of Christ, which will be performed as part of Normandy Arts Fest '99 in July. (At right, Stefanie Kelly and Greg read a scene from the script.)
In order to avoid the summer crunch, and overlapping with DIM's production of Murder in the Cathedral (in rehearsals in July and August), Pawn will be rehearsed in April and May, and be performance-ready in June. Additional dates for June performances will likely be set. Watch for further notices on rehearsal start dates!
Filing Requests
<![if !vml]>
<![endif]>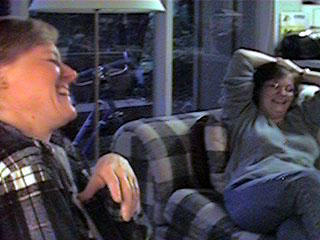 Interested in script work? DIM will be holding a summer writing retreat to pen the sequel to The Chi-Rho Files. Watch this newsletter for more information!! (At left, Patty and Lyla yuk it up at the original Chi-Rho writing retreat.)







Copyright (c) 2002 Greg and Jenn Wright