NEWS ARCHIVE APRIL 1999
<![if !vml]>
<![endif]>
The Mistress Directs
Fresh from her recent performances as Mary Magdalene in This Rock (DIMís Good Friday offering) and Mistress Overdone / Elbow in Redwood Theatreís Measure for Measure, Lyla Moreland is set to direct DIMís next show. The play, originally written by Greg Wright in 1996 and rewritten in 1997, is a medieval parable titled King to Knightís Pawn. Lyla is excited to once again be working in the medieval milieu. Many of you will remember her costume work for Dunois and others in Saint Joan; and, of course, the extensive work she contributed to the costumes for last yearís Man for All Seasons. Directing Pawn will provide Lyla the opportunity to design not only the costumes, but to set the vision for the entire production design. With a crusader-period setting, some new concepts will be able to be brought to bear.
Lyla, of course, is no stranger to DIM audiences. Since making her debut with DIM as the Egyptian princess Asenath in the 1996 production Of Might and Men, Lyla has not only been a mainstay of the acting corps, but has directed twice previously as well: the 1997 Good Friday offering, Look No Further; and the 1997 Christmas play, Mary Had a Little Lamb. Lyla followed 1997 with a string of memorable performances in 1998: Bathsheba in The Presence of Mine Enemies; Ma in Black Bart; and Alice More in Man for All Seasons.
Lyla will need to fill nine roles for Pawn; excellent roles for men and women are available. Be on hand for the first read-through April 18, if interested.
<![if !vml]>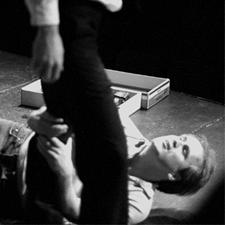 <![endif]>
The Plowboy Reflects
(Guest column by Dave Stark)
Did I really know what I had gotten myself into? There were many times when I thought I had made a big mistake. Would I be able to memorize the many lines I had, let alone be able to convey them to an audience in a meaningful manner? After all, this was the first play I had ever been in, and I had the audacity to think I could actually take on the lead role. (Whoíll Save the Plowboy?, Puget Sound Christian College, March 19-21.)
Would I have the energy necessary to display qualities and emotions that I did not have much experience with in real life? I played an angry, bitter, Godless, lying, wife-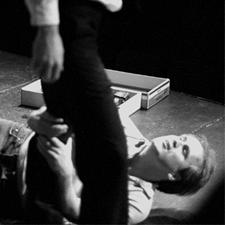 slapping beer-drinker. In real life, I had never let my anger escalate to the point where I had hit another person. Was I blessed with a peaceful temperament, or did I bottle up my anger and express it in other ways?
Displaying the necessary anger was the most difficult part to learn, but through some soul-searching effort into the meaning of anger in my own life, and help from a patient director, I tried to make the most of it.
Playing the Plowboy was a very stressful experience, because as the lead I felt a large responsibility for the success of the play. I did not want to let people down; I did want to let myself down; and I did want to let God down. In our journey of becoming Christ-like, it is difficult sometimes to believe that everything will work out for the best. We donít see the good during the process of change, but only after the change has taken place. It was difficult for me to have faith during the preparation for
the Plowboy that everything would work out for the best, but I kept pressing on; and, of course, things did work out. Was it worth it? Absolutely.
Iím not clear just how significant it was because I am not yet too far removed from it, but I do know this: Iíve had a history of fear and nervousness when speaking in front of groups; that fear has been all but eliminated. I know that I want to serve God and I know that this experience can only help make me an individual that God can use.
I believe God calls us to challenge ourselves in areas of our lives where we have experienced stagnation or fear. I believe the Plowboy was Godís will for me to help me experience just that sort of change, and I am very grateful for that experience.
Improv Connects
DIM has entertained the NCC congregation at two recent potlucks with its own version of improvisational theatre games. Inspired by the BBC show Whose Line is it Anyway?, aired on cable TVís Comedy Channel, DIM began working on improvisational exercises in 1996. As skills and rehearsal time allowed, the range and complexity of exercises expanded. With the (copy-cat) debut of Drew Carreyís own Line last summer, DIM enthusiasts were finally persuaded to do this stuff in public. Our debut was last November.
The response has been enthusiastic. It has provided an excellent introduction to DIM for many theatre-wary congregation members.
Improv exercises will again be a standard feature of our spring rehearsals (starting April 18) in preparation for a featured slot in NCCís annual Arts Festival.
The Founder Accepts
An anonymous donor recently contributed $1000 to Normandy Christian Church, earmarking the sum in support of DIM programs. DIM roundly thanks God for this support, provided through this anonymous donor.
The funds will be allocated toward the purchase of armaments and costumes for the coming Pawn and Murder in the Cathedral.
Chi-Rho Gets Complex
July 9-12 has been set as the writing retreat weekend for the Chi-Rho Files sequel. Set aside as much of that Friday-Monday stretch as you can to help craft our next hour-long episode. The retreat will be held at a pool-side hideaway in Des Moines. Contact Greg Wright for more details (206-241-6149).
Copyright (c) 2002 Greg and Jenn Wright