NEWS ARCHIVE JUNE 1999
<![if !vml]>
<![endif]>"Murder" Auditions Set

DIM's summer schedule gets under way July 5 with auditions for T. S. Eliot's seminal "Murder in the Cathedral." The play tells the story of the 12th-century martyrdom of English Archbishop Thomas Becket, and does so in a stylized and poetic fashion.

The production will mark the completion of DIM's "Martyr Trilogy," which began with the 1997 production of Shaw's "Saint Joan," and continued with last year's staging of Bolt's "A Man for All Seasons." ("Man's" James Wilhoit shares a cookie with Greg Wright, below.) To say the least, these productions have been an education in the history of politico-religious thought in Western Europe during this millennium.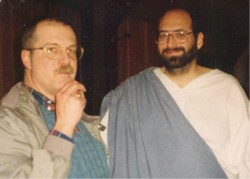 Once again, Greg Wright will direct the play, which will be staged for five performances in September. Since directing "Man" last season, Greg has concluded his fifth season of adjudication for The Driftwood Players in Edmonds and directed "Measure for Measure" at Redwood Theatre in Redmond, and "Who'll Save the Plowboy?" at Puget Sound Christian College. While handing the director's reins to other DIM members over the bulk of this season, Greg has acted in "The Chi-Rho Files," and "This Rock." He will also appear in DIM's upcoming "King to Knight's Pawn." This fall, he will begin teaching the daytime drama classes at PSCC.
Those more tuned in to Greg's upcoming plans may also note that his wedding to long-time DIM associate and writing partner Jenn Cram also coincides with the "Murder" production schedule. But have no fear: Greg will have the reins firmly in hand as the production gets under way. For more information, call 206-241-6149.
"King" Ready to be Crowned
DIM has produced an original one-act drama in preparation for the local Waterland Festival, Des Moines' annual five-day celebration of summer and the arts.
The play is a meaty, allegorical medieval drama, entitled "King to Knight's Pawn." Written by Greg Wright, the play envisions a world where the biblical metaphors of kings, stewards, armies and armor are realized in a feudal setting. The words of knights and ladies are inspired by biblical parables and prophecies, and come to life in the passion of real, three-dimensional men and women. As the new millenium approaches, it is an intriuging contrast to see the "coming apocalypse" staged in 12th century Europe!
Two performances of the drama have been scheduled. The first will be held as a courtesy preview for the residents of Wesley Gardens, a retirement home in Des Moines, on July 1. "We are so excited about this opportunity," says the Gardens' special programs coordinator Marian Klein.
The second performance of "King to Knight's Pawn" has been scheduled as part of Normandy Christian Church's "Arts Fest 99," coinciding with the Des Moines Waterland Festival events. This performance will take place at 7 PM on Friday, July 23.
No strangers to the Waterland Festival, the cast of "King to Knight's Pawn" will then make a return appearance in the Grand Parade. In last year's parade, the cast of "Black Bart" swaggered down Marine View Drive, staging mock gunfights in the street!
"King to Knight's Pawn" is directed by DIM troupe member and recent Redwood Theatre veteran Lyla Moreland. This is Lyla's third directorial effort with DIM, having previously helmed "Look No Further" and "Mary Had a Little Lamb" in 1997.
Also look for more of Lyla's costume wizardry in "Pawn," which once again presents a medieval challenge. DIM supporter Lorraine Drake also lends a hand with costumes and set construction.
The play also will feature much of DIM's recently acquired collection of medieval armaments.
Cardinal Wolsey Delivers
<![if !vml]>
<![endif]>
Congratulations, Stefanie and Todd!!!
"
Komedy

" Raises More Than Cain

In conjunction with Doulos Ministries and Normandy Christian Church, DIM recently staged an improvisational comedy event titled "Komedy for Kosovo," as part of a short-term project to raise funds for war-torn Kosovo. Over two hundred dollars were raised. Look for more improv from DIM at Normandy Arts Fest '99, July 21 at 8 PM.
"Chi-Rho" Retreat Set
July 9-12 has been set as the writing retreat weekend for the Chi-Rho Files sequel. Set aside as much of that Friday-Monday stretch as you can to help craft our next hour-long episode. The retreat will be held at a secret hideaway in Des Moines. Contact Greg Wright for more details (206-241-6149).
Copyright (c) 2002 Greg & Jenn Wright