Motivity Moves Out
Just about a year ago, DIM was planning to branch out in a new direction. This spring, after lengthy delays, you'll finally be able to see exactly what's going on.
On Mother's Day this year, May 9, Dave Stark, along with Jenn and Greg Wright, will be presenting Lost in the Forest: 15 Minutes with Hansel and Gretel at PowellsWood in Federal Way. From 11 AM to 4 PM, every hour on the hour, Motivity will act in the great outdoors. Lost in the Forest is a short fairy tale crafted for audiences of all stripes and ages.
The concept for Motivity is a simple one. "Mobile Theatre. Our Show. Your Space." Motivity will be specifically designed to provide quality theatrical presentations promoting understanding and reconciliation, at low cost, to organizations looking for fundraisers -- or for non-profit organizations like PowellsWood, where Dave, Greg and Jenn have all worked at one time.
Motivity's second objective is to integrate Christian dramatic artists more fully with the community, while maintaining the no-overhead, no-muss-no-fuss approach of Dramatic Insights Ministries. However, rather than bringing the audience to Motivity, Motivity takes the show to the audience -- and lets someone else worry about publicity and box-office.
This fall, Motivity's first major production will be mounted: a full length adaptation of Beasley's Christmas Party by Booth Tarkington. The play will be the second adaptation written by Greg Wright, following the successful run of Shakespeare's Measure for Measure at Redwood Theatre in 1999.
To book a performance of Beasley's Christmas Party, or to see about joining the production, contact Greg Wright. For more information about Mother's Day at PowellsWood, check www.powellswood.org.

Mike Brunk Acts Up
DIM veteran Mike Brunk is afraid he's being typecast. For the second show in a row at Redwood Theatre, Mike will be seen on stage in his boxer shorts!
Running from April 30 through May 15 at Redwood Theatre in Redmond, Domestic Tranquility also marks the co-Directing debut of DIM associates Judy Schwanke and Michelle Tuck (Saint Joan). It's only fair, probably, since Mike put Michelle on stage in a negligee for 2003's While the Lights Were Out, which took Best Show, Best Director and mulitple acting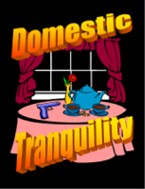 awards in Redwood's 2002-2003 award ceremony. Michelle is hoping that a little of that magic will strike for Domestic Tranquility, as well.
Mike's been a busy boy, as usual. This winter, he and fellow DIM-wit George Rosok teamed onstage at Redwood in You Can't Take it With You. Prior to that, George had appeared under Mike's direction in Blithe Spirit, also at Redwood. Mike has also joined the board of both Redwood Theatre and World Stage Ministries.
Mike got his start with DIM, first appearing as Peter in This Rock. Mike was one of the few and the brave who weathered A Quarter Measure, and came out the other side prepared to attack Saint Joan. He, like other DIM regulars, presumed that "outsiders" would get all the plum roles in Saint Joan because of their "superior" experience. But DIM's troupers found themselves acting toe to toe with seasoned veterans like Melanie Calderwood, Michelle Tuck, Raymond Jones and Mike Way in those years.
After directing In the Presence of Mine Enemies for DIM (1998), Mike then found his services as director in demand, directing an award-winning production of Ten Little Indians for Redwood in 1999. And there's been no looking back!
Joining Forces
At the Christian Women's Retreat at Warm Beach this month, DIM veterans Jenn Wright and Kathy Bledsoe will be presenting two workshops relating to J.R.R. Tolkien's The Lord of the Rings.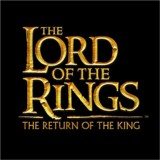 Peter Jackson's film of The Return of the King recently topped the billion-dollar gross receipt mark, and audiences around the world are eating up Tolkien's fantasy. Kathy and Jenn's first workshop, "The Lord and the Rings: Would Jesus Care?" examines the role that the church plays in this cultural phenomenon. The second workshop, "Tolkien's Women," exposes the myth that Tolkien's tales are somehow misogynist -- and explains that Tolkien's profound respect for women is based in his Christian faith.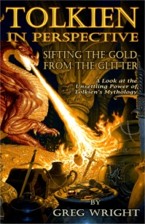 Since Greg Wright's book, Tolkien in Perspective, was released last October, Greg has been conducting a series of lectures at libraries, churches and conventions. He's currently scheduled to speak at the North American Christian Convention in July, and Jenn has lately gotten into the act herself. Also a writer by training, Jenn will be co-writing the Narnia coverage for website Hollywood Jesus this summer, anticipating the release of The Lion, the Witch and the Wardrobe in December 2005.
Branching Out
In September last year, cultural hotspot Hollywood Jesus launched a new web journal. After Eden was inspired by writer Regina Doman's observation regarding what she calls the "flowers of Christianity -- things you can only really get if you are a Christian." Things like mercy, justice, love, freedom, equality. "Although people have been hacking and chopping at the roots of Christianity in our culture for years," she goes on, "they are not humanly able to resist the sweet scent of the flowers." Given, however, that they "donít yet understand that the flowers grew from this hated root, Christianity," they want to "subsist on the flowers" without understanding that, "ultimately, the attempt is hopeless" -- unless, with some divine and human assistance, "they succeed (through Godís grace) in tracing the flower back to its source: the Tree of Life."
Christianity is the redemptive hope of our culture: not through legislation, stone-throwing or critical negativity, but by showing us the godly things already embedded in our culture. For God reveals Himself through all that He has created, even the things that we may not particularly like.
After Eden is dedicated to this redemptive vision. G.K. Chesteron remarked that "humanity is not incidentally engaged, but eternally and systematically engaged, in throwing gold into the gutter and diamonds into the sea." After Eden aims to help reverse the trend: to salvage the gold from the gutter, and rescue the diamonds from the sea.
Initially a member of After Eden's editorial staff, starting in May, Jenn Wright will become one of the two principal columnists for After Eden, along with Mike Gunn, pastor at Harambee Church. Check out Jenn's popular February column at After Eden: "The Ultimate Frontier."